Complying with the very best security standards
To help ensure your IT systems are as secure as possible, we've gone beyond the basic Cyber Essentials accreditation to earn the Gold Certificate from IASME – the Information Assurance for Small and Medium Enterprises consortium.
The IASME 'Gold' certification is aligned with the internationally recognised ISO27001 standard but is specially tailored to meet the needs of small and medium-sized businesses – making it perfect for LSA Systems and our customers like you.
The certification is an affordable way for small and medium sized business to demonstrate a baseline compliance with ISO27001 and prove to their stakeholders that they are dedicated to enhancing their security efforts and complying with the very best cyber security standards.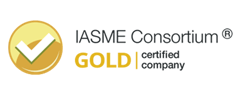 Firewall is the generic name for software or hardware which provides technical protection between your systems and the outside world. There may be a firewall within your internet router.
IT  equipment is often not secure upon default installation. An 'out-of-the-box' set-up can often
include an administrative account with a publicly known 'default' presenting a security risk.
It is important to only give users access to the resources and data necessary for their roles, and no more. All users should have unique accounts, with their work being separated from administrator tasks.
Malware – such as computer viruses – is generally used to steal or damage information. Over 90% of all malware is delivered via email. 
To protect your organisation, you should ensure that your hardware and software is always up-to-date with the latest updates or 'patches' – or you will be at serious risk.
Extremely responsive and easy to work with

We found IASME extremely responsive and easy to work with. We looked at a number of potential companies who could help us with a Cyber Essentials accreditation, but found IASME the most open about the process, the questions we would have to answer and the pricing. We had a tight deadline for the certification to be completed but after uploading the final questionnaire at around 5.30pm, the assessment was completed, a report produced, and the certificate issued by 11.00pm the same day. 
Chris Stokes, Head of Legal & Commercial at Allen Lane