Powerful Capabilities delivered
to your desktop
Using Kaseya products allow us to monitor, automate and address issues arising on your IT systems within a complete management solution.
With Kaseya's state-of-the-art technology, we can automate many of the repetitive, manual tasks that interrupt your day while gaining visibility of your entire IT environment, allowing us to solve problems quickly or prevent them from occurring entirely.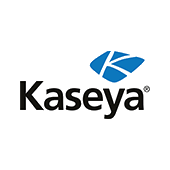 Endpoint Management and Control
Allowing Management of your systems from our Support desk.
With a Support service from LSA Systems, we will install an integrated suite of IT services that allow us to monitor and manage the security of your desktops and servers and allow us to remotely install software or take control and manage your machines.
In many instances, a simple support request relates to – How do I……. with Kaseya installed on their machine, we simply join the user's desktop session and show them. This assists in the education of the end user and resolves the issue at the time of the call.
Kaseya allows us to set-up alerting on your machines to constantly monitor performance, security and usage. If any of the pre-set criteria are met, an alert is automatically sent to our support desk for rectification to take place, in many instances, before the user is even aware that the problem exists.